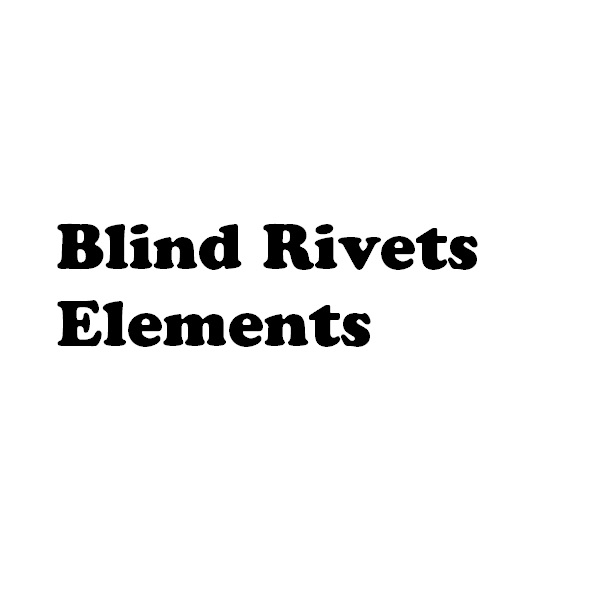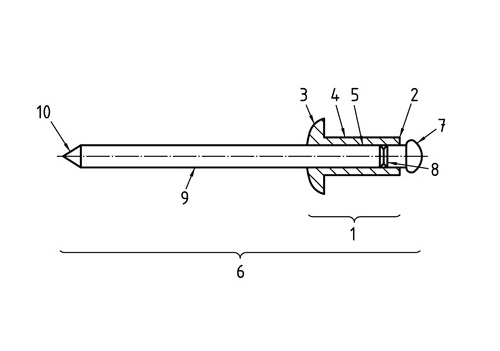 1: blind rivets body
2: blind rivets end
3: blind rivets head
4: blind rivets shank
5: blind rivets core
6: blind rivets mandrel
7: blind rivets mandrel head
8: blind rivets break area
9: blind rivets mandrel shank
10: blind rivets mandrel end
blind rivet body
rivet element which comprises head, shank, end and core
blind rivet head
preformed portion of the blind rivet body which is always located on the access or installation side of the joint
blind rivet shank
part extending from the underside of the head to the rivet end: Its cross section is normally circular.
blind rivet end
extremity located at the opposite end of the shank to the head: It may be closed, open or split.
blind rivet core
axially located hole in the body: It may either extend through the full length of the body or only partly through it.
mandrel
component, usually with a break area, pre-assembled in the blind rivet body
Note 1 to entry: It has an upset head and its shank may be plain or grooved.
Note 2 to entry: Pulling or driving the mandrel sets the blind rivet by deforming the end of the blind rivet body into the blind head.
blind head
upset portion of the blind rivet body, remote from the head, formed by the mandrel during setting
pull mandrel
after insertion of the blind rivet through the components to be fastened, mandrel pulled axially with its head upsetting the end to form the blind head
pull through mandrel
after setting the body, mandrel pulled completely through the body resulting in a hollow rivet
break pull mandrel
after setting the body, mandrel breaking at or near the junction of the mandrel head and its shank, the head and a small portion of the shank of which are retained in the rivet body
break head mandrel
after setting the body, mandrel breaking at the junction of the mandrel head and its shank, at which point both shank and head are ejected resulting in a hollow rivet
blind rivets shanks open end
rivet body, hollow throughout its length and able to use any type of mandrel
blind rivets shanks open end, extended set
open end rivet body with characteristics which enable it to join component parts over a broad range of thicknesses
blind rivets closed end
rivet body, the end of which is closed and remains closed after setting
blind rivets split end
rivet body, the end of which is split axially into two or more segments
blind rivets slotted shank
rivet body, the shank of which has axial slots between the underside of the head and the end
blind rivets filled core
<after setting of the rivet> rivet, the mandrel of which is retained in the body having its end generally flush with the top of the blind rivet head
blind rivets semi-filled core
<after setting of the rivet> rivet having only a short length of the mandrel retained in the body
blind rivets hollow core
<after setting of the rivet> rivet having no part of the mandrel retained and where the body is hollow
blind rivets ultimate tensile load
maximum axial tensile load the blind rivet can sustain before failure
blind rivets ultimate shear load
maximum single shear load the blind rivet can sustain prior to failure
blind rivets mandrel break load
load necessary to break a break pull mandrel after setting